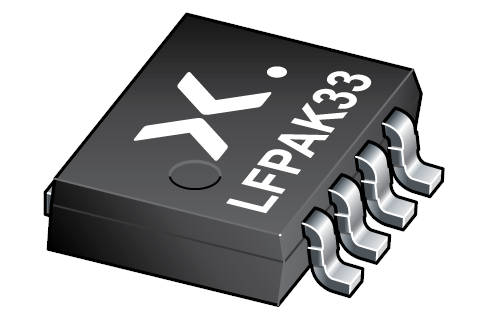 The logic-level device comes in 3.3 x 3.3mm SOT1210 'LFPAK33' packaging and has "enhanced safe-operating-area technology which has been tailored to provide exceptional transient linear mode performance, a key performance metric in airbag applications", according to the company. "LFPAK33 packaging uses 84% less board space when compared to DPAK, while maintaining robustness."
Inside it a trench mosfet, designed and qualified to AEC-Q101 (at 175°C) for use in linear mode in airbags. "Other similar products use are typically based on DMOS and first-generation trench technologies, which are being gradually retired by many silicon manufacturers," claimed Nexperia marketing manager Norman Stapelberg.
The package has a copper clip for handling current and heat, and gull wing leads for automated inspection and board level reliability.
13mΩ(max) is measured with 10V on the gate and 15A through the drain at 25°C, and rises with temperature. The part is also specified with 4.5V on the gate in the data sheet, again offering higher resistance.
The company has other tightly-aimed mosfets, which it calls 'ASFETs' (application specific mosfets), for battery isolation, motor control, hot-swap and PoE (power-over-Ethernet).
A full data sheet can be downloaded from the BUK9M20-60EL product page