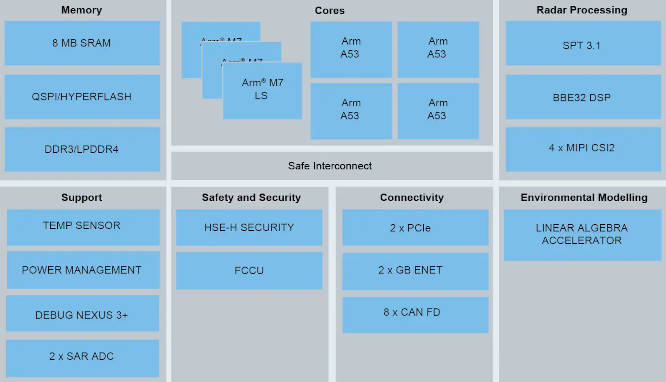 NXP is providing the hardware: the 16nm S32R45 imaging radar processor, while Green Hills is providing its Integrity real-time operating system (RTOS) and software development tools.
"Common software and hardware architecture spanning the S32R45 and S32R41 radar processors enables OEMs and Tier 1s to develop and reuse radar software targeting autonomous driving levels L2+ to L5," said Green Hills. "When S32R45 takes on a domain controller role by running other additional software components at different levels of criticality, the RTOS must guarantee the safe separation of these components, access to resources, and freedom-of-interference running alongside the safety-critical radar applications."
There is a radar SDK (software development kit), and a micro-kernel for multi-core scheduling on the quad Arm Cortex-A53 core complex (800MHz flexible lock-step) – the latter certified to ISO 26262 ASIL D and complying to ISO 21434 automotive cybersecurity, said Green Hills. A second RTOS – µ-velOSity – is there for the triple Cortex-M7 core complex (400MHz lock-step pairs.
S32R45 meets ASIL B (D) safety requirements, said Green Hills, and supports secure over-the-air updates through a hardware security engine. Connectivity includes Gen 2/3 PCIe, two Gbit Ethernet and eight FlexCAN with FD.