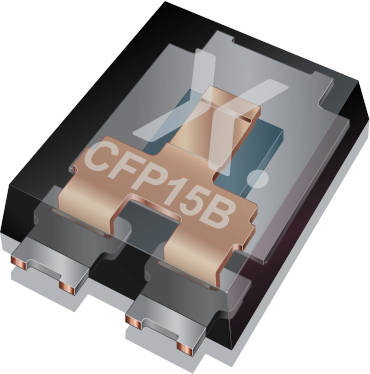 There are 32 planar Schottky diodes and eight hyperfast recovery rectifiers, with some AEC-Q101 'Q' types for automotive, all in the company's 5.8 x 4.3 x 0.95mm CFP15B package (also SOT1289B).
"Using the smaller CFP15B instead of DPAK or SMB/C packages can save up to 60% of board space, while maintaining the same level of electrical performance," claimed the company, adding: "Its lead form ensures uniform solder joints for improved automated optical inspection."
The Schottky diodes range across 30 – 100V and 3 – 15A.
"Versions optimized for low forward-voltage, including the PMEG100V080ELPE/-Q, deliver low conduction losses for dc-dc converters and in reverse polarity protection applications," said the company.
There are also low leakage variants.
Amongst the eight 200V PNE200xxEPE/-Q series rectifiers, maximum average forward currents span 4 to 10A.