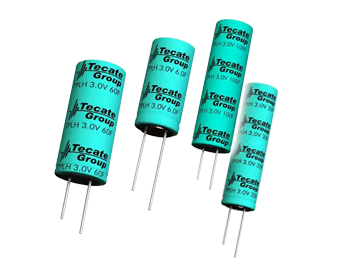 "The new series provides the pathway to higher voltage and greater energy density within the same industry-standard cell footprints," according to distributor Omni Pro, which is stocking the parts. "Technology improvements are a direct result of propriety innovation in electrode processing."
There are 10 devices from 4F to 100F are available, and operation is over -40 to +65°C, with extension to +85°C if they are de-rated to 2.7V.
Projected life is 500,000 cycles and 10 years load. They are UL recognized, and RoHS and REACH compliant.
The 4F capacitor measures 8mm diameter and 19mm long, and can be discharged at up to 3.19A through its 140mΩ internal resistance (1kHz). Leakage is 15μA.
The equivalent figures for the 100F version are: 18mm x 60mm, 57A, 10mΩ and 225μA.
Applications are foreseen in robotics, material handling, defence, consumer, telematics and handheld scanners – on-board vehicle security video back-up and short-term data centre power back-up are examples.
The Omni Pro product page is here
The Tecate 3V TPLH data sheet is here